Factory price natural gemstone tiger eye agate stone slab for countertop
Product Description
Product DescriptionAN ANCIENT POWER.
Stones were used in ceremonies as far back as the times of the Egyptians and the Maya: to predict the future, as lucky charms and for the treatment of illnesses. This thousand-year old relationship has now been rediscovered. And gems once again take their place in our surroundings. Combining splendour with energy,practicality and beauty.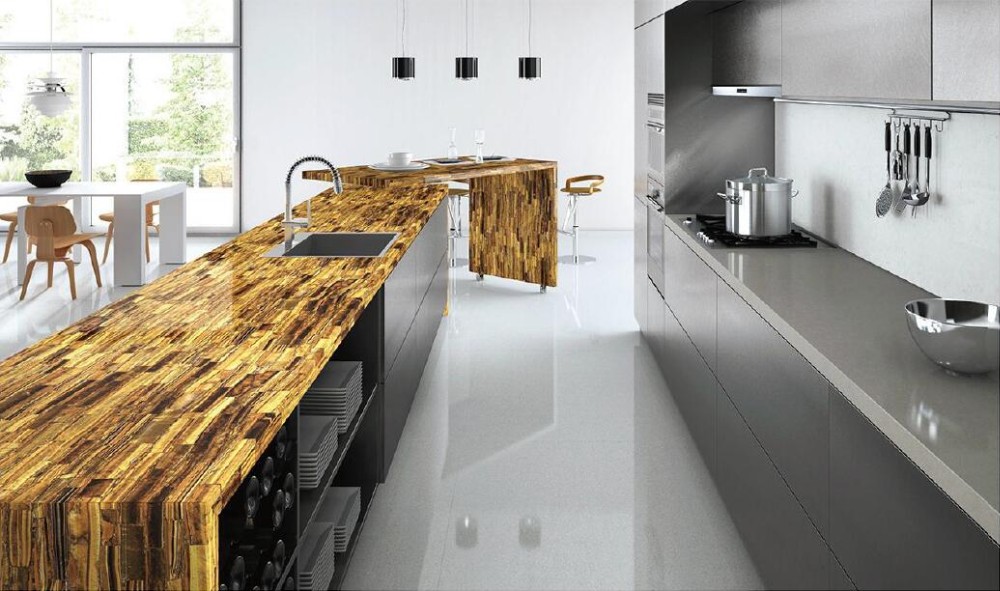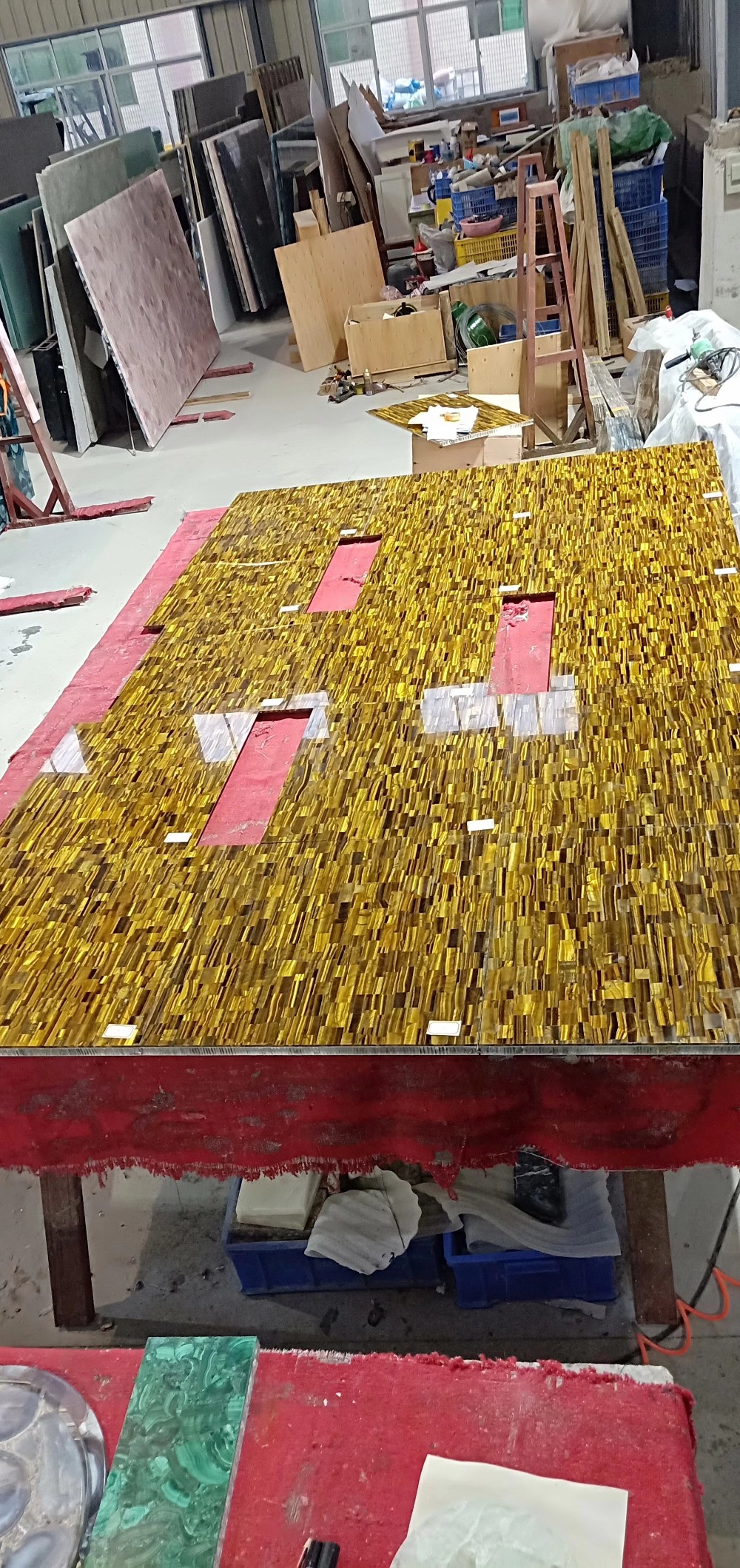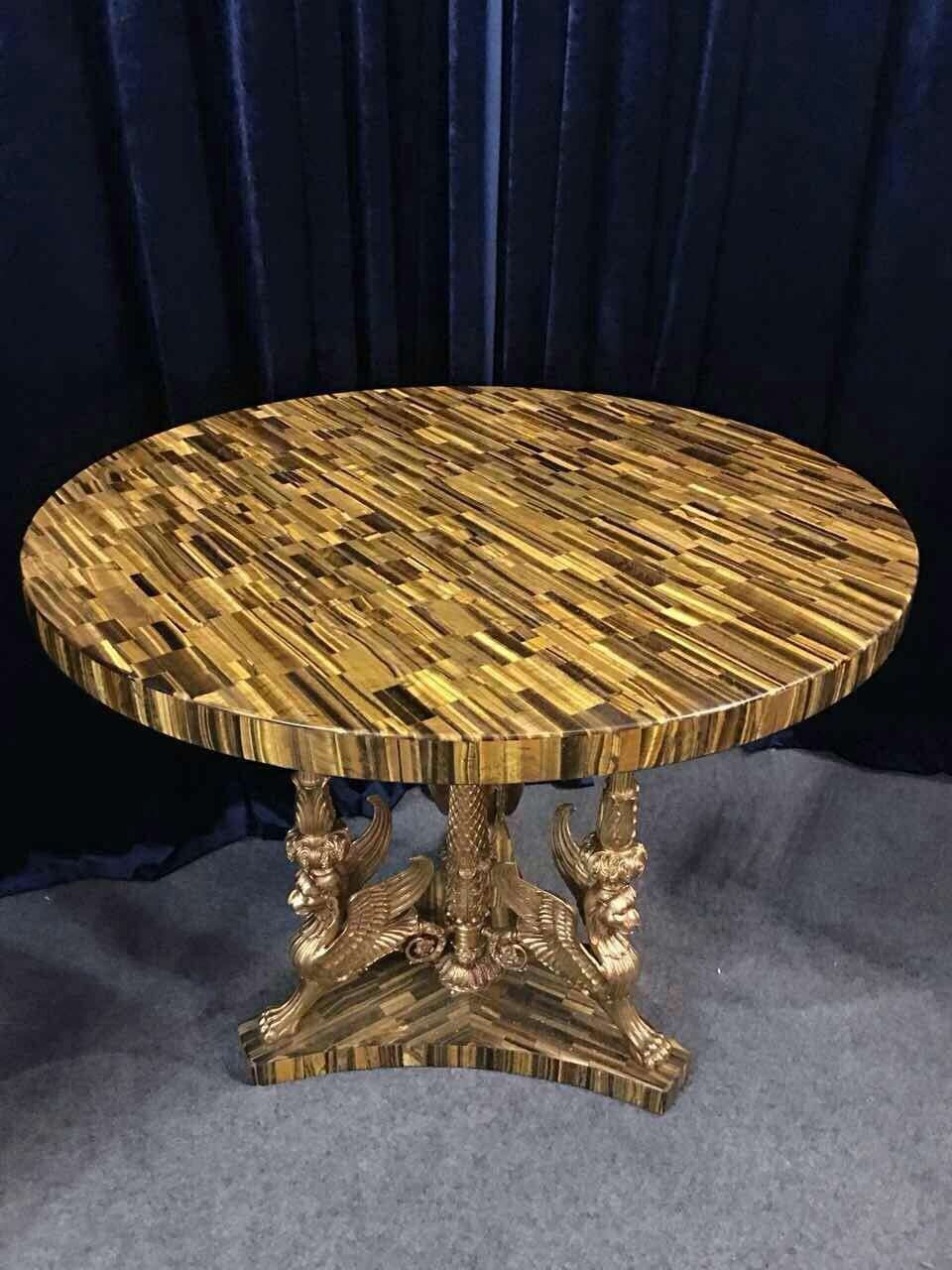 Detailed Images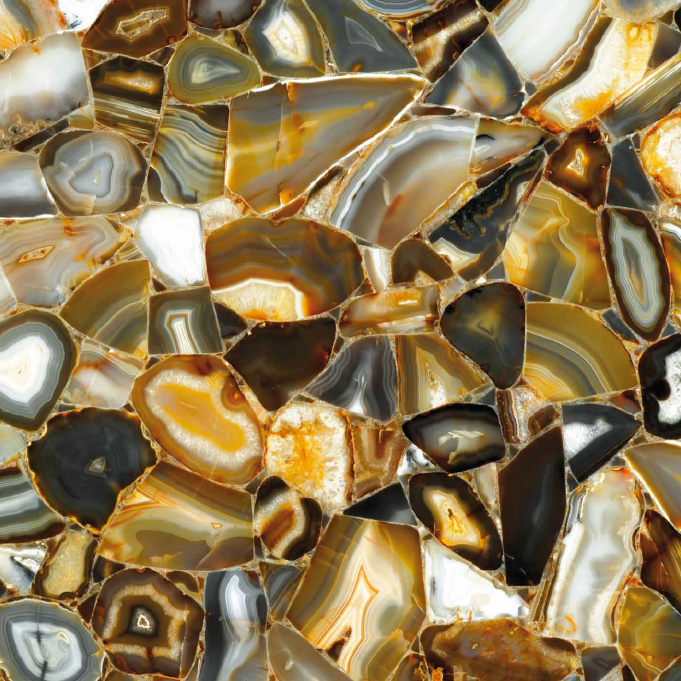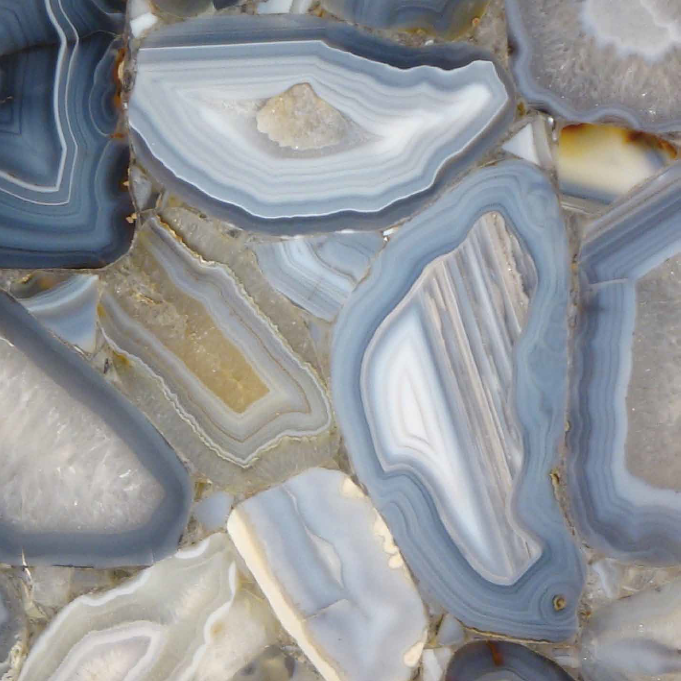 Brown Agate.This gem distinguishes itself for its many and varied shades of brown.And it is this par ticularly warm colour that makes Brown Agate an eminently suitable stone for the most various settings..Grey Agate.Grey Agate is distinguished by its unique patterns of white and grey.And it is, indeed, these markings on the sur face of the crystal that allow it to blend in per fectly, in traditional and modern projects alike. The calming and relaxing shades make it ideal for all kinds of domestic environment..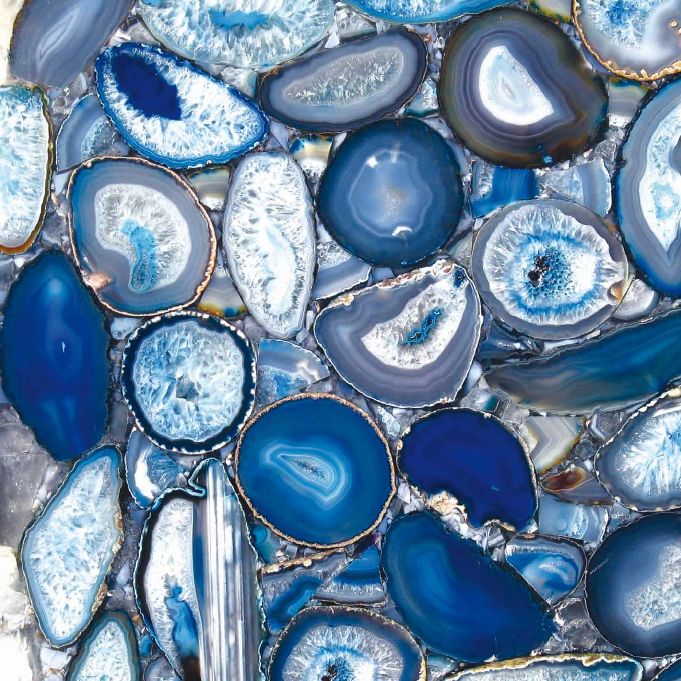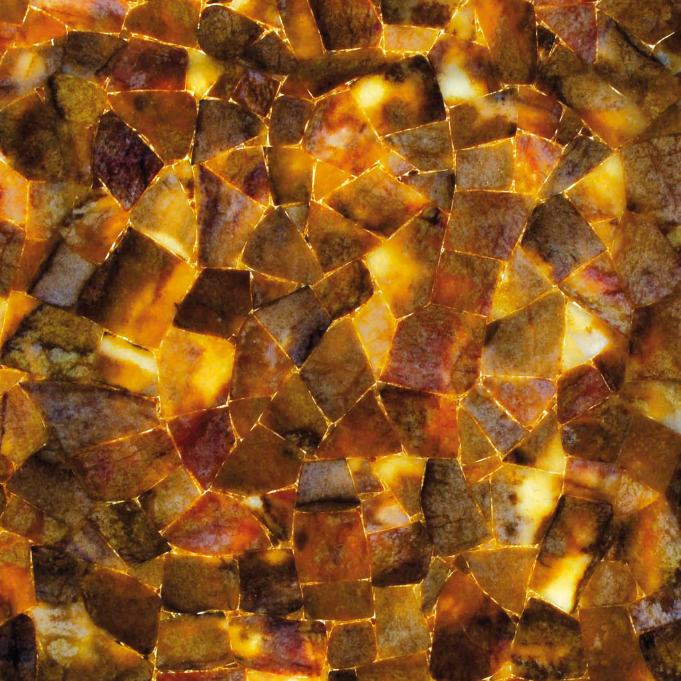 Blue Agate.Blue Agate is a stone that has been known to man since ancient times. Its special colour transmits to the environment an intense sense of protection and serenity. The sence of well being that this stone communicate it makes it foundamental part of the surrounding ambient so much to render it protagonist into the most various housing solution. Adding refinement to kitchens, bedrooms and bathrooms.Yellow Quartz.A warm charming colour, cluen but descrete. The colour of the sun and the sensation of pure semplicity. For these reason yellow quar tz becomes an easy matching material for all the backgrounds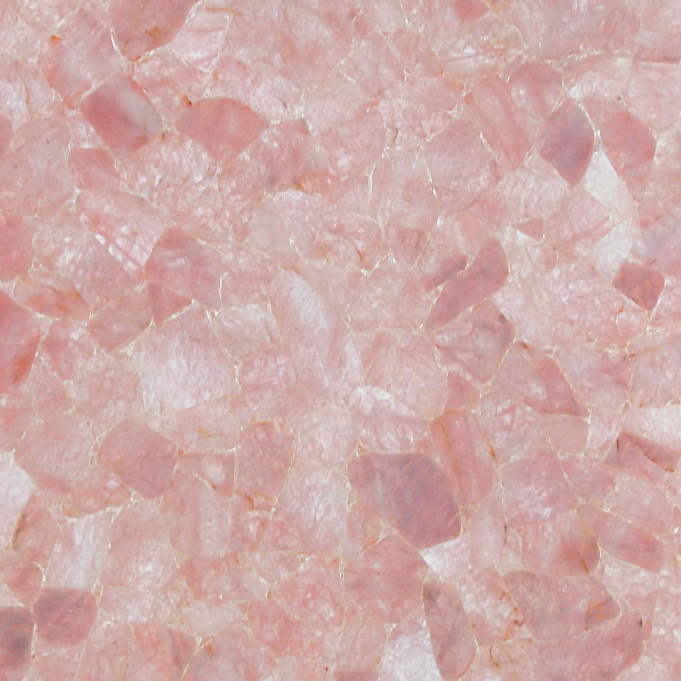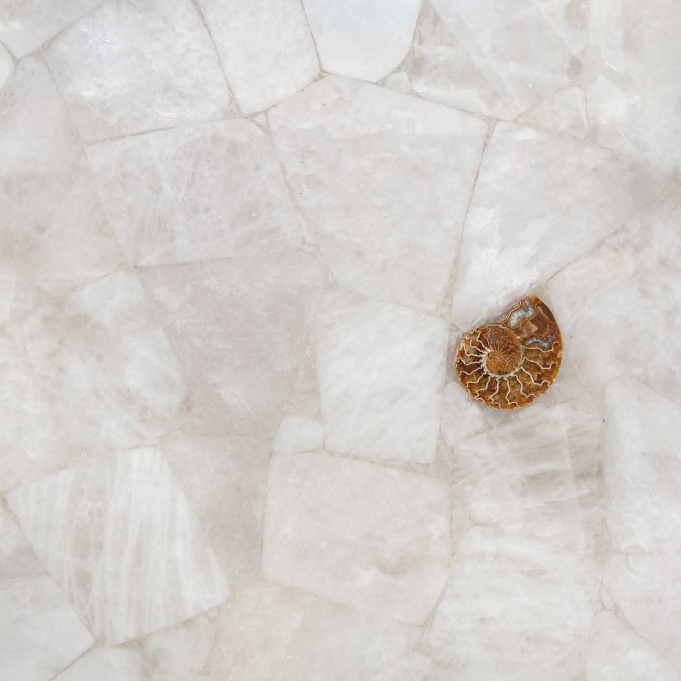 Rose Quartz.
A simple and elegant shade, a deep rose that creates appealing backgrounds into the housing spaces (and not) when backlighted.
White Quartz.
The white of the iceberg is finally within our reach! Thanks to White Quar t z and the sensation of pur i ty that this cr ystal emanates.Decorating a sur face with this cr ystal is the ultimate frontier in modern design. Its snowy colour may also be adorned and enhanced with light and dark accessories.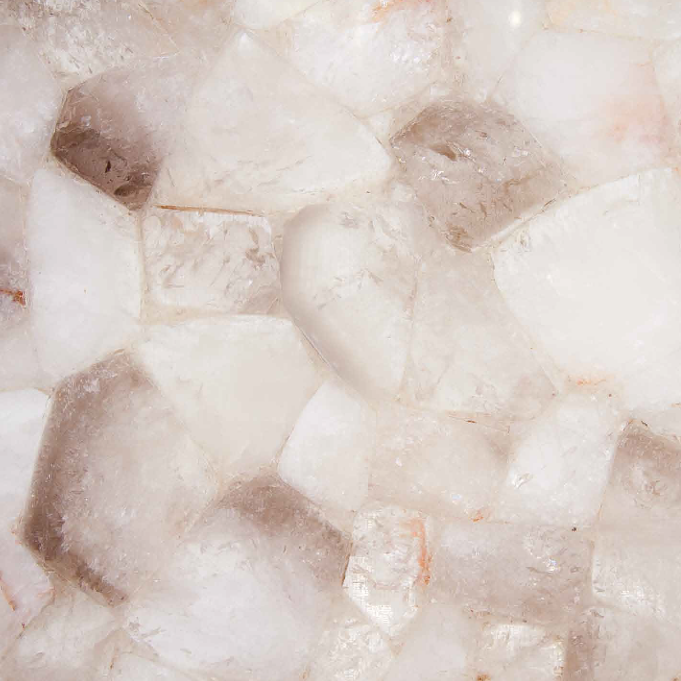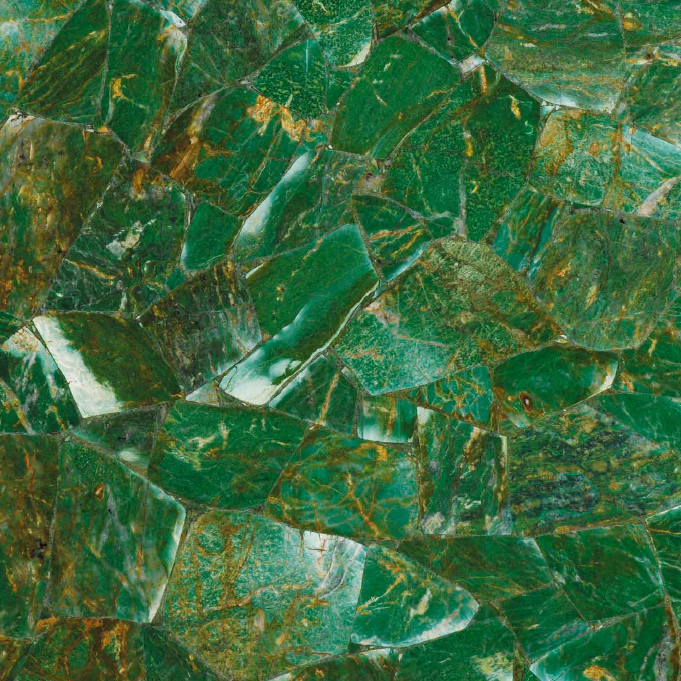 Smoky Quartz.
This quar tz is rich of deep and intense hues, ranging from gray to dark brown that gives the adjective smoky to the quar tz.Reflexes characterize this stone, one of the most elegant, that makes it the per fect detail for any applicatio
Apple Jasper.
The deep green colour of tis stone makes it an appeal ing and interesting option. The per fect choice for those projects which need a characterizing touch. Its shapes and colours make the ambient more precious.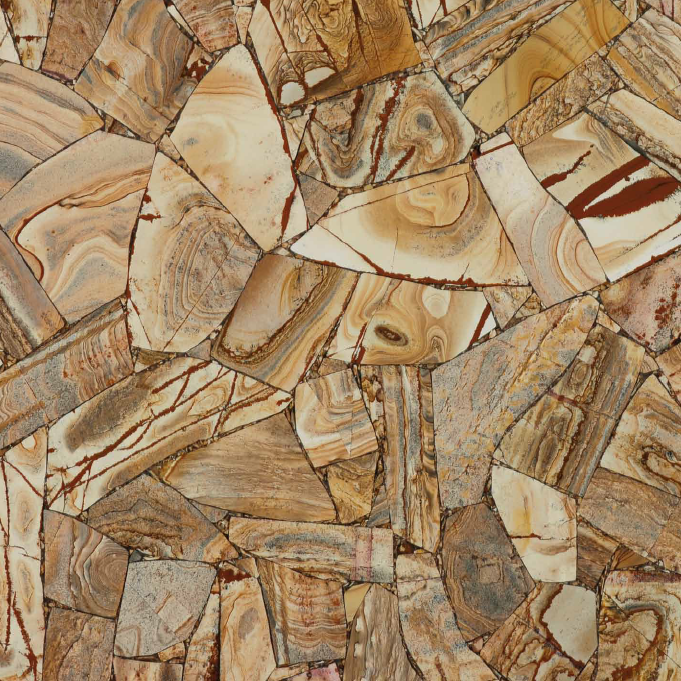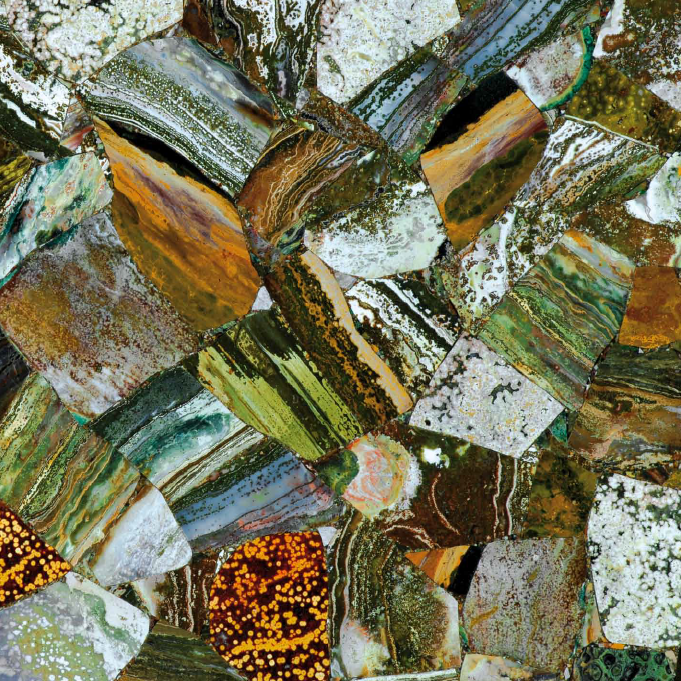 Picture Jasper.
The deser t enters the home. A stone that, with its characteristic colour, recalls sand and the colours of the deser t, conveying a sense of warmth to ever y domestic environment. The power of Picture Jasper stone blends in per fectly with both traditional and contemporary projects and it is the ideal choice for making each space in the home exclusive and unique
Ocean Jasper.
Jasper, ancient and preciuos stone used since the most remote time steps into the houses with a new dress. walls, tables, stairs and interior décor with the most unique nuances.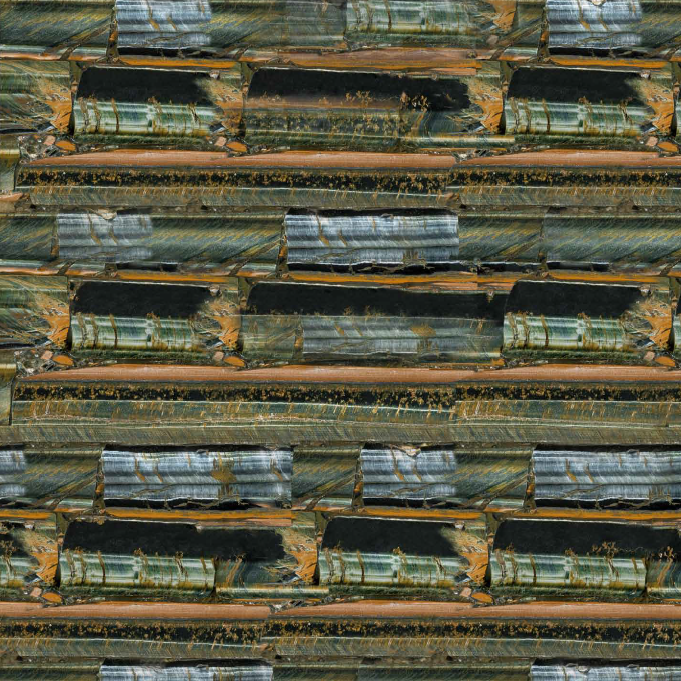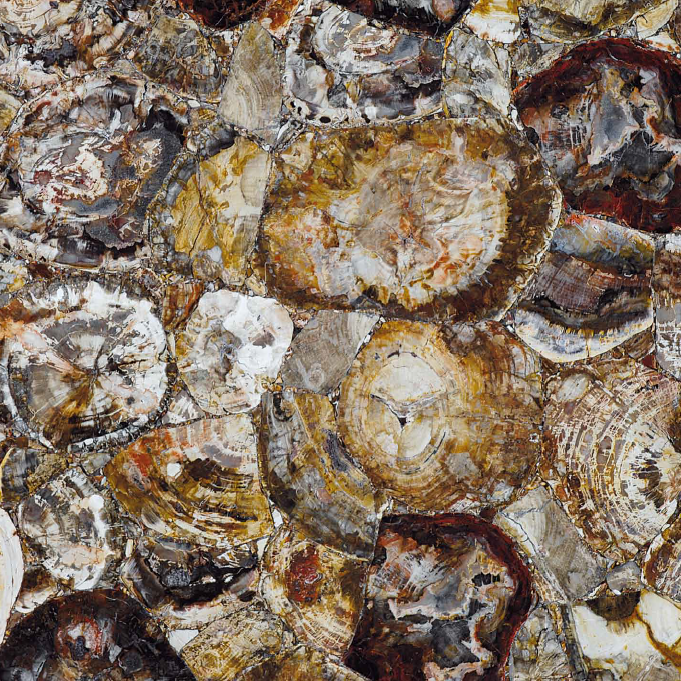 Tiger Eyes Blue.
The golden reflexes get mixed up with intense blue grains.
This stone impresses for its natural design and decoration, always different and unique. The blue pearl tones make environments,prestigious and sophisticated.
Petrified Wood.
The colours of this stone, which comes from Madagascar, with all its warm shades of brown, recall the sof t tones of the ear th. Used in the designing of floors and furniture, this gem – thanks to its characteristic shades - fills every space with a sense of cosiness and home.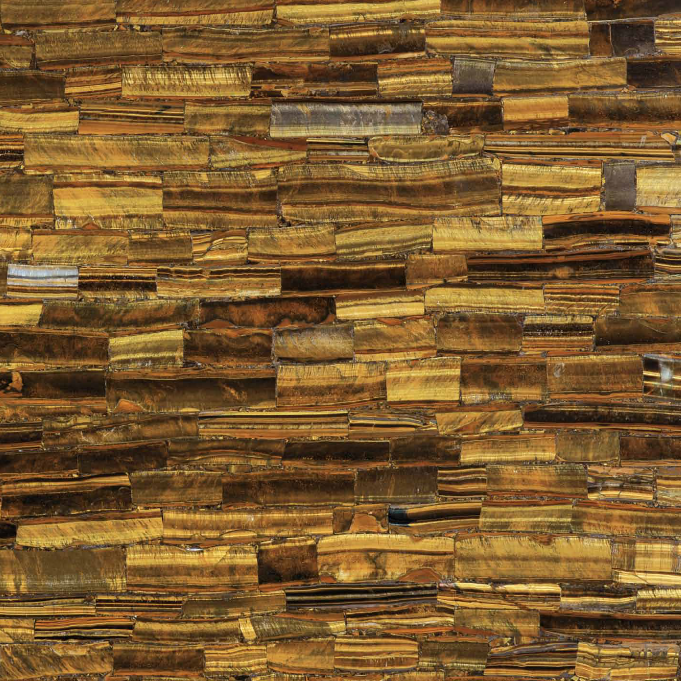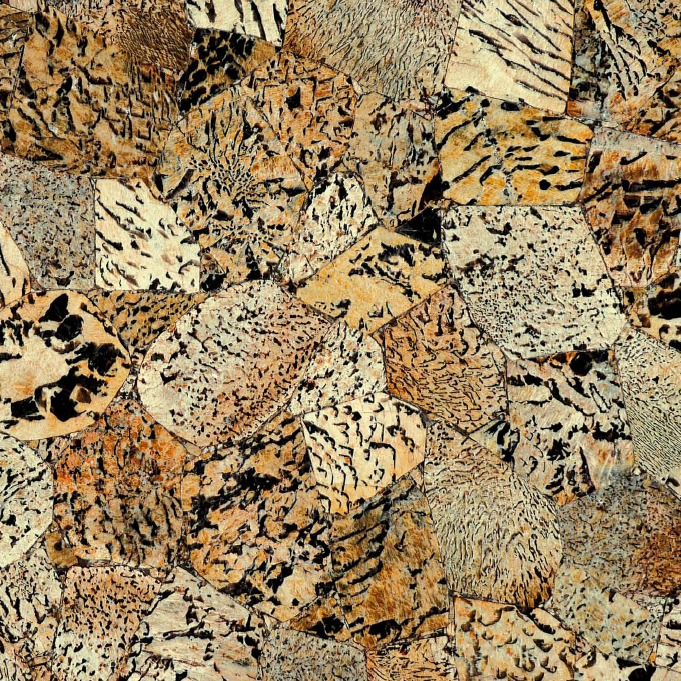 Tiger Eyes.
A preciuos texture. gold twined with the scale of brown colours turn into stone and become a strong accent of elegance and style.Tiger Eyes is all along one of the most used semiprecious stones and well known for its uniqueness. From today on this precious symbol becomes an interior design object.
Tiger Skin.
The colours of Africa framed on a painting. The Tiger Skin with its moving colours reminds the most fashinating continent, and becomes an interesting option to enreach cer tain ambient.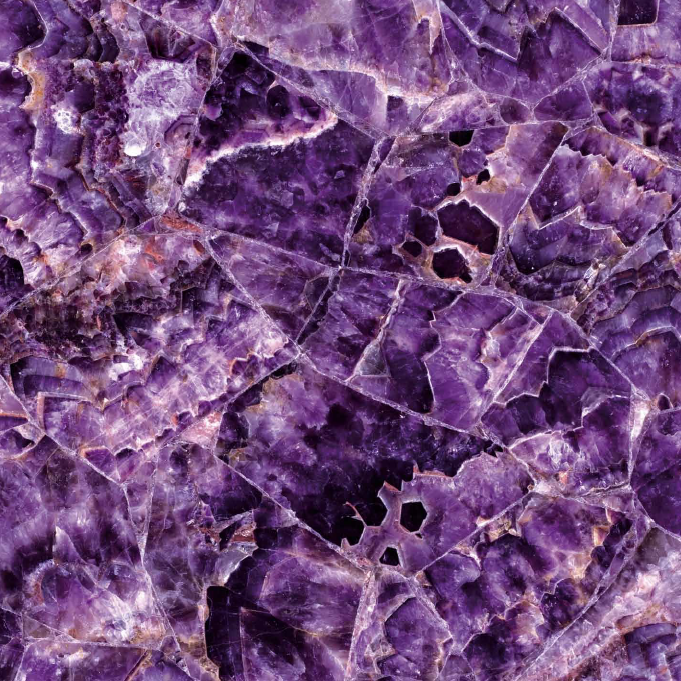 Petrified Wood - "Retro".
The warm shades of petrified wood are suggested in a new version.the cut ting down of the trunk is made ver tically, showing in this way a new natural drawing that decors the most various interior.
Amethyst.
With its deep purple and violet hues, the distinctive feature of
Amethyst is its elegance. Mined in South America and in a number of African countries, it stimulates curiosity, imagination and creativity.Extremely popular throughout the course of history, it was originally considered as being one of the five most precious stones in the world. Amethyst blends in harmoniously both with traditional and with contemporary decor.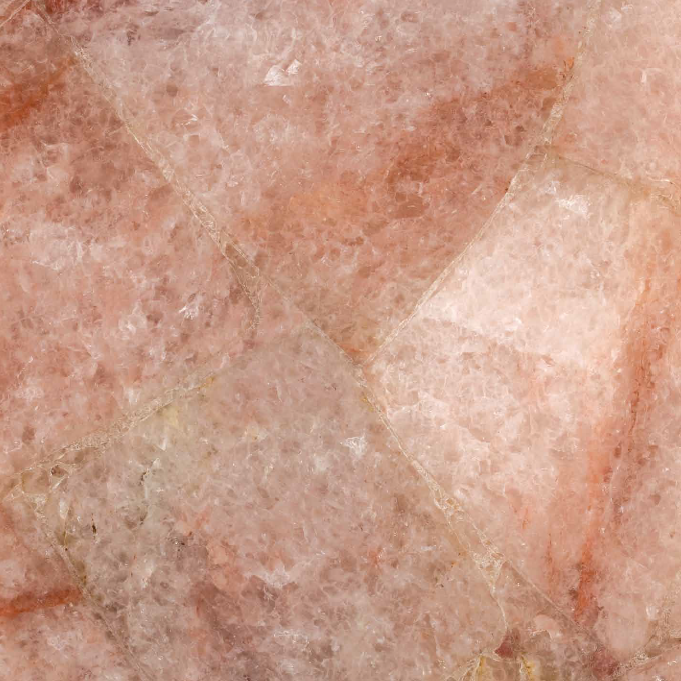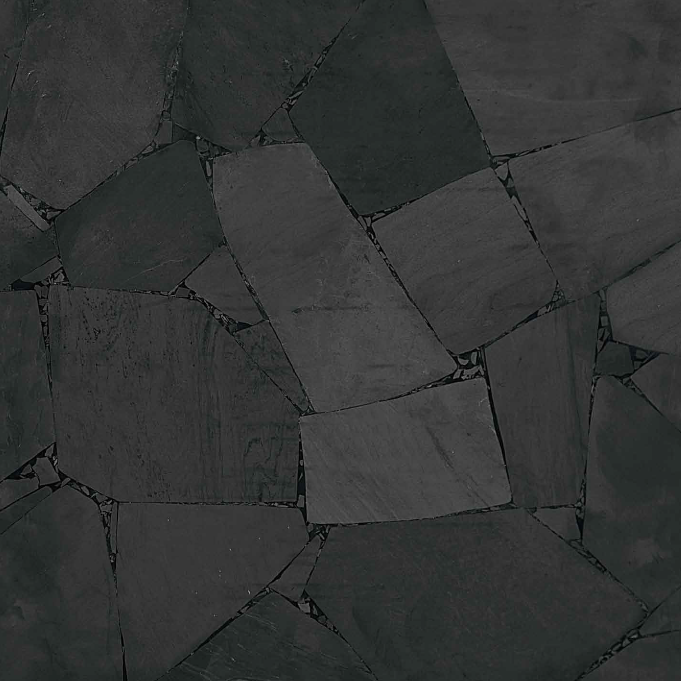 Hematoid.
The stone that dispels worry and stress, promoting the flow and emission of positive energy and vitality. Generated when a haematite gets entrapped inside quar tz crystals, the Hematoid is a gem that enhances its surroundings with warmth and optimism, repelling and dissolving negativity. It is indeed the light emanated by this crystal that enhances our all everyday living spaces, giving our home a refined and exclusive atmosphere.
Hematite.
A natural por trait of a strong and intense colors characterize this stone for its variety of pearled accents.
Hematite, the charmest black brightest stone ever, gets into the most interesting projects for its qualities.
Related Products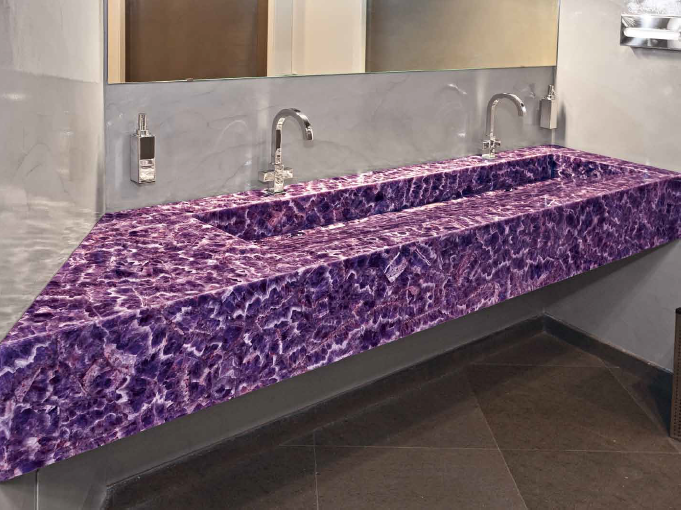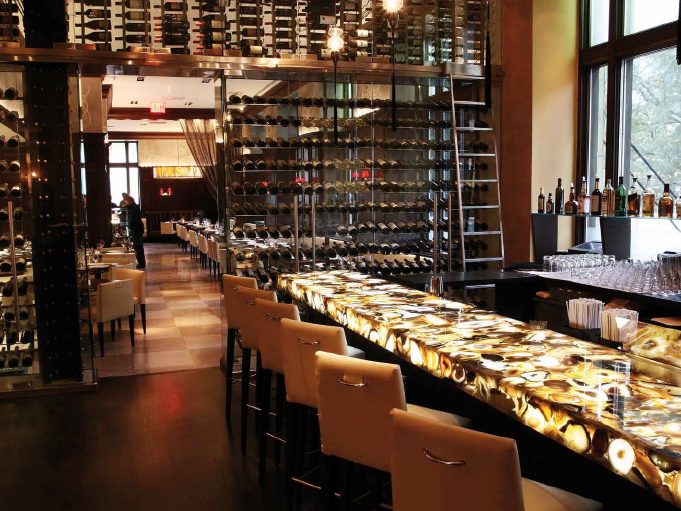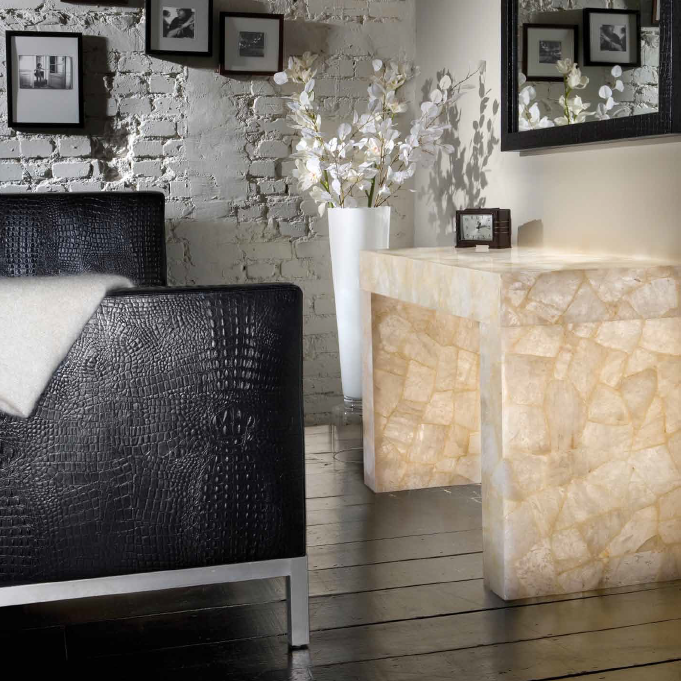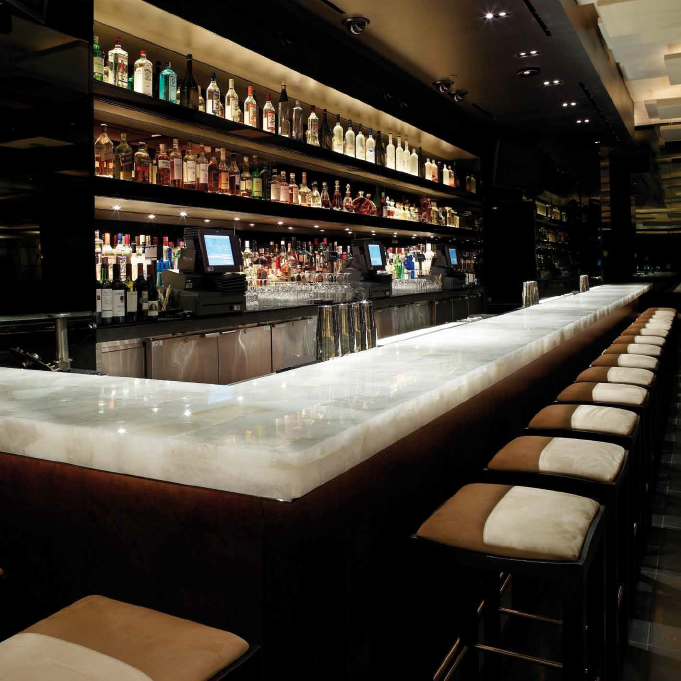 Packing & Delivery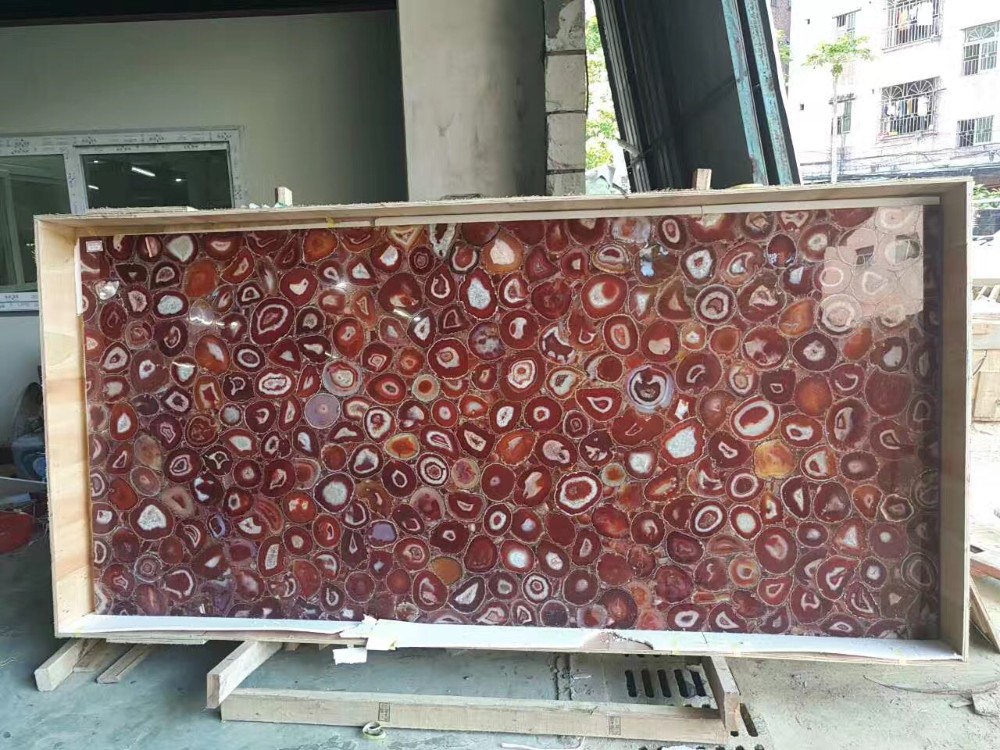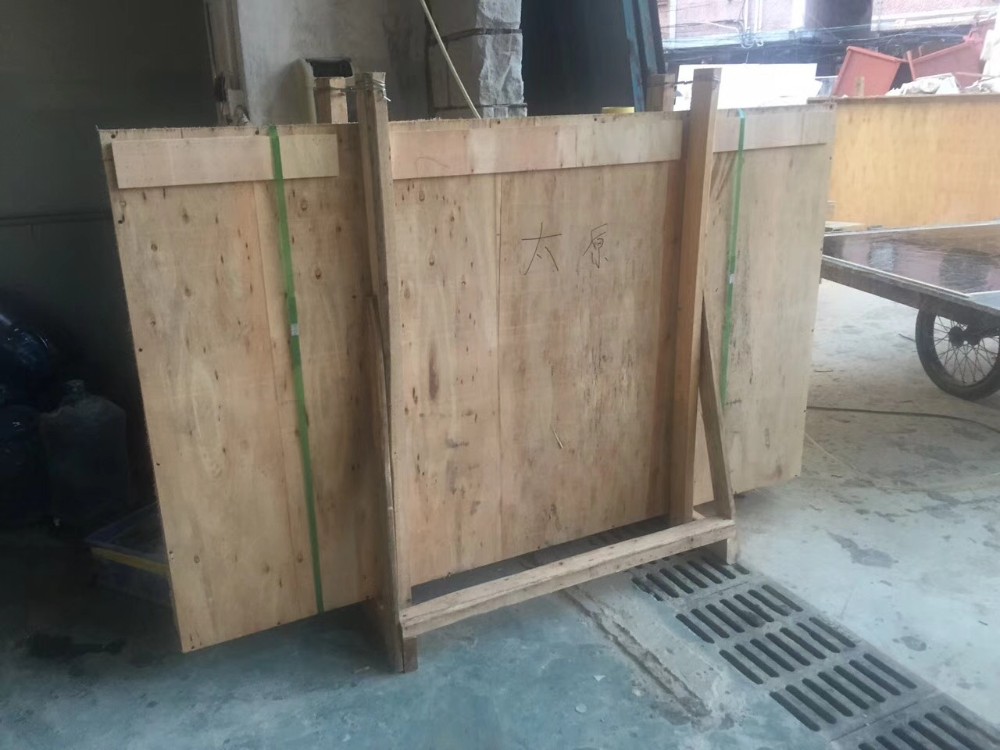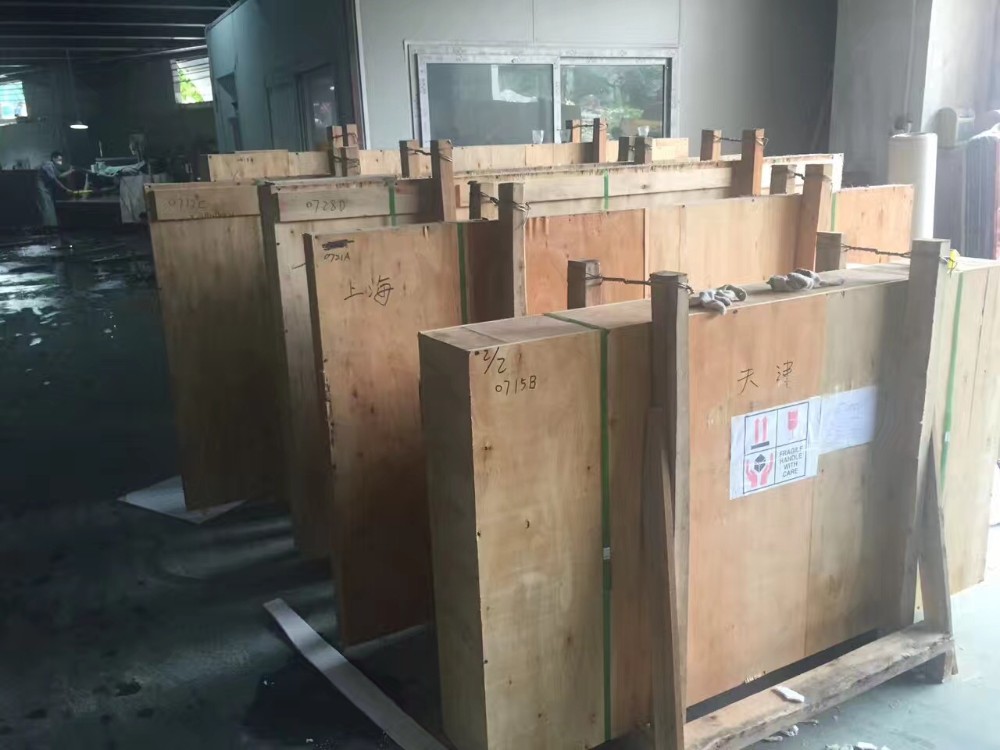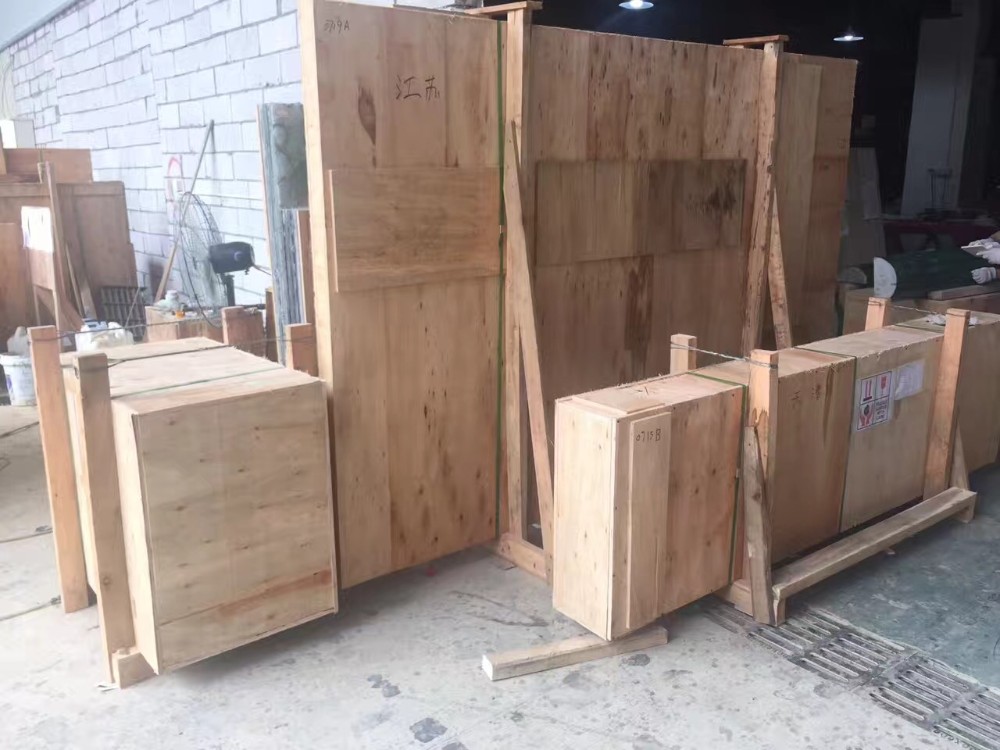 Contact us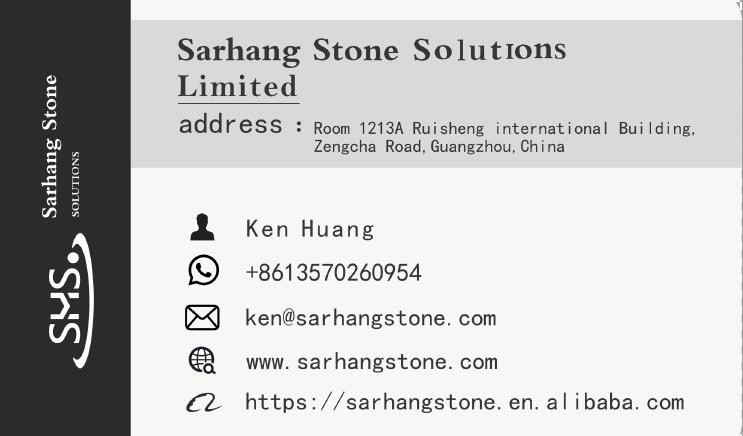 Contact us if you need more details on Semiprecious Stone Slabs. We are ready to answer your questions on packaging, logistics, certification or any other aspects about Blue Agate Stone Slab、Semiprecious Stone Slabs. If these products fail to match your need, please contact us and we would like to provide relevant information.
Product Categories : Onyx & Agate